That Day Animal Alphabet HD Beat Out Cookie Doodle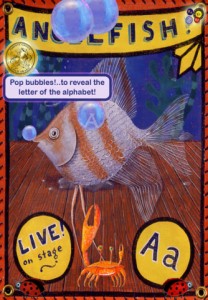 Last October, I unofficially partnered up with Fish the Mouse Media and headed up the programming for Animal Alphabet HD, the interactive and kid-friendly alphabet app exclusively for iPad. After nearly 6 months of development (in mostly evening hours) interrupted only by the birth of my daughter in January 2011, the app was released to critical acclaim and glowing reviews.
Unfortunately, as goes the unpredictable world of the App Store, it didn't equate to sales. It was tough watching it languish while my kids continued to play with it every day as they did while I developed it. When I'd finish an animal screen, I'd hand it off to my sons and say, "Hey guys, want to play with the Kookaburra?" They were the best beta testers and they still love it. Alas, being lost in the monstrous caverns of the App Store meant very few others got to enjoy it as well.
Then — A few weeks ago, while doing some pre-research for my own gaming project, I started tinkering with Animal Alphabet HD to see if I could squeeze it onto an iPhone screen. After a bit of success I got addicted and, in just a few days, an iPhone version was complete! Then, we not only released the update as a Universal app but we lowered the price to $0.99.
And that's when we beat Cookie Doodle.
Ironically, on my daughter's 1st birthday, the update arrived on the App Store (9 days ago now) and AAHD has steadily risen up the charts since. Today, it's the #10 Top Paid iPad app in the Education category and still rising! It's good to see the recognition for what I feel is an engaging, addictive, and most-of-all educational experience for kids! The Fish the Mouse team did an excellent job coordinating, designing and developing this game. Just the 3 of us.
I've written a couple dozen apps for the iOS platform. Many I developed on my own, others with teams. A few have hit high in the App Store, namely the MLS app (as a team via Double Encore) and Fuzz Alert Pro (independently for Fuzz Alert LLC). Animal Alphabet HD, though, is much closer to my heart. For all the work I've put in, it's great to see it rewarded. It shows that despite all of us being underdogs when it comes to competing on the App Store, it makes the reward that much greater.
Let's all keep pluggin'!
Note: In full disclosure, the Blanco family loves Cookie Doodle. :-)