Quite Possibly the Best Tweet Ever?
November 24, 2010 John Blanco Rant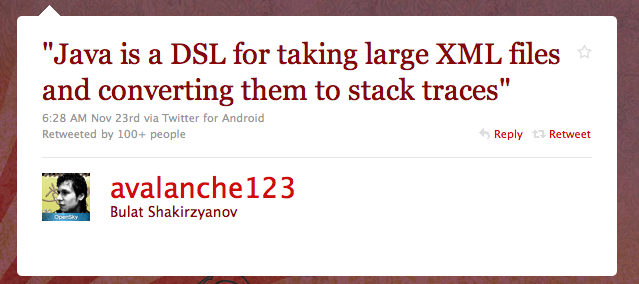 John Blanco is a freelance iOS and Xamarin developer living in Lakewood, CO. He's been developing mobile apps for 10 years, beginning in the medieval days of Java ME and Blackberry, making him the ultimate hipster mobile engineer. Follow him on Twitter!
Follow Me:


Comparing the iPhone and Android Development Environments The Fred (1.e4 f5 2.exf5 Kf7??)
John Blanco

I've been writing mobile apps professionally for 10 years: Blackberry, Java, ME, iPhone, Android. I've gotten dozens of apps into the various App Stores for dozens of clients, big and small.

My current specialty is in iOS and Xamarin development. If you need an app written at a fixed price or just need a hourly developer to give a boost to your current team, I might be your guy. Let's make an app!
Account